Virtual Event Entertainment | Online Events

SKIP TO OUR BOOKING OPTIONS BY SCROLLING DOWN THE PAGE
With ongoing uncertainty surrounding public gatherings, Virtual Events (also known as an online event) are becoming an increasingly popular choice for companies and organisations around the world.
Whilst the dreaded COVID-19 remains prevalent, most of the event industry hangs in the balance, and on pause. However, forward-thinkers across the globe are turning to modern technology to host their important events, providing their staff and customers with a virtual experience instead!
Positively, an interactive gathering means that anyone can join and participate from the comfort of their own homes from anywhere in the world. A great incentive for any event planners who were previously working with a strict attendance capacity to reach a whole new wider audience.
For the time being, coordinators aren't burdened with the joyless tasks of running a successful event. Searching for a suitable fitting venue, Audio Visual hire, temporary staff, catering demands, floor planning, and anything else that seemingly drains the fun out of hosting a real in-person occasion… but the fun part of choosing great entertainment still remains!
FUN, INTERACTIVE, ENGAGING ENTERTAINMENT FOR YOUR ONLINE VIRTUAL EVENT
At Music HQ, we're known for offering the very best live music and entertainment for businesses looking to host unforgettable corporate events… and we're proud to say that's just as accurate in the world of Virtual Entertainment.
We've grabbed the proverbial e-Bull by the i-horns and put together a number of virtual packages that will help ensure your online audience make the most of your online event and all in attendance will remember it for a long time to come.
Whether you're hosting an online award ceremony, virtual team building event, an e-conference, virtual summit, webinar, or any sort of online celebration, having the right entertainment really is a vital part of the proceedings. You'll want to make the most of it and we can help you make that possible!
---
OUR VIRTUAL ENTERTAINMENT BOOKING OPTIONS
---
THE VIRTUAL EVENT BAND
Uplifting virtual performances from some of the UK's best musicians. Regularly seen sharing the stage with global superstars!
---
CHRISTMAS SINGALONG – THE VIRTUAL EVENT BAND
If you're online, you can gather all your friends, family and colleagues, grab your make shift hairbrush microphones and join our amazing virtual band in the centre of our virtual stage to sing your hearts out to bring your favourite Christmas tunes to life!
---
80's EXTRAVAGANZA – THE VIRTUAL EVENT BAND
Check out THE VIRTUAL 80's BAND. A bright and vibrant burst of energy to bring your virtual event to life with all your favourite 80's anthems!
---
VIRTUAL ENTERTAINMENT ONLINE EVENT HOST
Whether you're hosting an online award ceremony, virtual team building event, an e-conference, virtual summit, webinar, or any sort of online celebration, having the proceedings delivered with confidence is vital. Check out our Virtual Host option.
---
LET'S DANCE | MUSICAL BINGO
Our musical bingo is like no other. Not only do we have the very best tunes for you, we have super fun singalong lyrics and easy to follow dance moves on selected tracks to get your heart rate soaring! Energize and unite your viewers!
---
SHELLYANN – LIVE STREAM JUKEBOX
Sensational singer – The winner of BBC's 'All Together Now' is available to live stream to your events and allow guest to get interactive by letting them choose the next track she performs. Guaranteed to blow you away with her talent!
---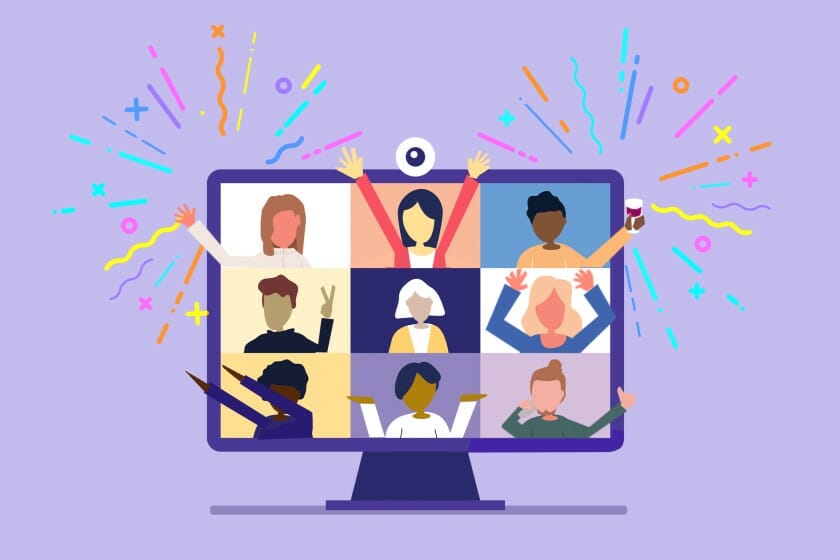 Even though delegates may be sat in comfortable seats at home, online events still need to keep the energy levels up, right throughout the event and turn what might otherwise have been an average experience into an unforgettable one.
Take a look through our unique packages. Perhaps you have a specific idea in mind, please do let us know about it. We're constantly seeking inspiration for new bespoke virtual packages and always eager to hear any suggestions.