We could give you all the pandemic wedding planning advice in the world, but sometimes you just need to hear it from someone who's been in your shoes!
Melissa & Adam certainly weren't prepared to let Covid dampen their "I Do's"!
With a little positive thinking and a LOT of love, they managed to pull off the most perfect day at St Tewdrics House.
Thank you so much for sharing it with us here at Music HQ, accompanied by some sensational images by South Wales Wedding Photographer Nick Murray Photography.

What was your most favourite moment of the entire day?
Our favourite moment was the music at the end of the day. Everyone left the day on a massive high and we all loved being able to get up and dance to some well-known tunes. After a tough year, it was so fun to hear live music again and the band did an excellent job.

Why did you choose your venue?
We were interested in getting married in South Wales as it felt like a good halfway point between a family who live in London and a family in West Wales. After a search of some of the best intimate Welsh wedding venues, we came across St Tewdrics House in Chepstow. We booked a viewing and were blown away as soon as we arrived there. It was the first, and subsequently, the only venue we visited as we knew it was the perfect location for our wedding.

Did you have a specific theme for your big day?
We didn't have a theme, we just focused on what really mattered to us and what we felt should be included on the day. We're not overly traditional so we chose our florists after seeing some of their previous setups using beautiful rustic flowers, plus we added our own personal touches such as origami paper hearts and table decoration photo frames as we're a very creative couple.

How did you hear about The Wilderness?
We came across The Wilderness through Instagram actually having looked at some previous weddings at our venue, and their style and song choices stood out to us immediately as what we wanted. We also searched South Wales Wedding Bands.

What did they bring to your day?
The Wilderness was the perfect way to end our special day. They brought fun, amazing music and a lot of style. It was so fun to be able to dance again after such a long, difficult year through the pandemic and everyone was very enthusiastic. We requested our first dance song, which they rehearsed and performed brilliantly on the night. Everyone loved the band!

What did you think of the service provided by Music HQ?
Music HQ were always so helpful, efficient and answered all of our questions. This was highlighted through the fact that we had to postpone our wedding twice and they helped take some of the stress out of that process. Thank you Music HQ!

Best piece of advice for other couples planning their wedding during a pandemic?
Don't plan a wedding during the middle of a global pandemic! In all seriousness, for those couples who are continuing their planning, there will be lots of ups and downs when planning during uncertain times but once you come to terms with the fact that there will be a few changes to your wedding day because of potential restrictions in the world we live in, make the most of the positives and what you CAN have included on your big day. Try not to put all your focus and attention on things that will be missing and holding on to having to deliver the perfect day – it will already be perfect because you are marrying the one you love! Remember why you are getting married and the rest will follow.

Looking back, is there anything you would change?
If we had the ability, we wouldn't have set our original date in 2020! However, we are proud that we have managed to get married during a global pandemic and our day was so beautiful and special, apart from being allowed more of our closest friends and family, we wouldn't change a thing.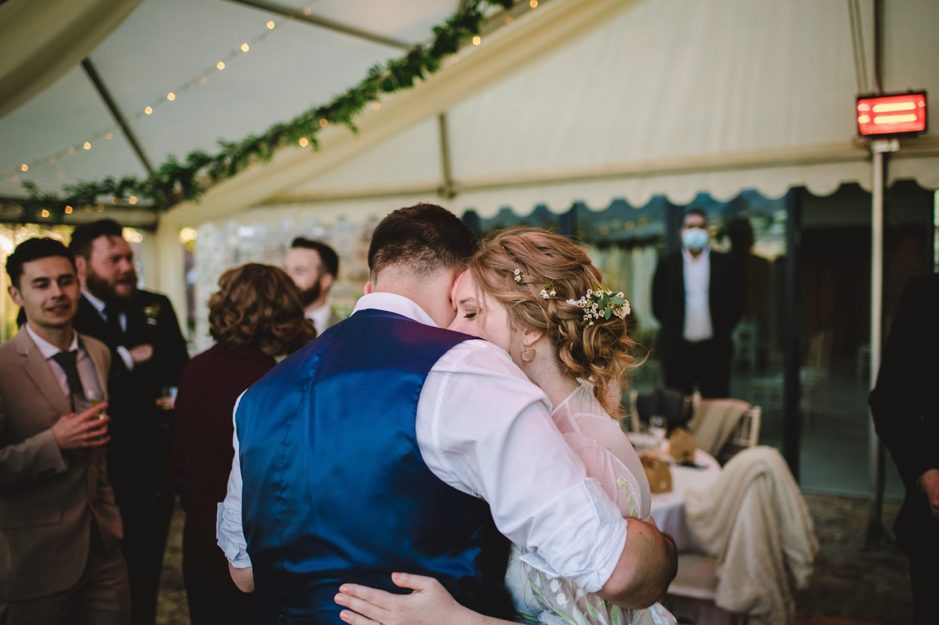 (Music HQ: A huge thank you to Nick Murray for the superb images)
Suppliers
Flowers – Wren & May Flowers
Photography – Nick Murray Photography
Cake – Cake Box
Wedding Dress – Annie's Vintage Clothing
Makeup – Christy Waterfall
Hair – Abigail Constanza
Favours – Fabulous Welshcakes
Venue – St Tewdrics House
Caterers – CleverChefs