Finally, Mr & Mrs Griffiths, Verity and Oliver celebrated 13 years of love surrounded by their closest family and friends with the breath-taking backdrop that is St Tewdric's House.
We were honoured to provide the soundtrack to their perfect day with one of the Best Wedding Bands in South Wales, and we wish them all the happiness in the world for their future together.
…Also, where do we get a bathtub filled with booze?

What was your most favourite moment of the entire day?
Our favourite moment of the day was finally tying the knot and being announced as Mr & Mrs. After being together for 13 years and having to postpone the wedding a year, it was such a nice feeling to finally be married.

Why did you choose your venue?
We fell in love with St Tewdric's House on the first visit. Not only does It have the most beautiful grounds and views, it's also so beautiful inside. All the staff are so welcoming and friendly. They go above and beyond to ensure you have the best day possible.

Did you have a specific theme for your big day?
No specific theme just light and neutral colours. We chose nudes, whites, light pinks, golds and greenery.

How did you hear about Indienational?
After searching South Wales Wedding Bands on Google, we found Indienational on the Music HQ website!

What did they bring to your day?
We organised a cocktail hour for the early evening and the band did their first set around that time, so it was nice to have the band playing. It was so good to hear a live music wedding band again after the difficult year we have all faced.  Whilst we couldn't all get up to dance (which was super hard as the band played some great songs), it was just lovely to listen to and sing along with them.

What did you think of the service provided by Music HQ?
Music HQ were super friendly and helpful from the moment we booked.
We were undecided whether to go ahead with the wedding, but they gave us plenty of options to help us, which was much appreciated during the stressful wedding planning.

Best piece of advice for other couples planning their wedding during a pandemic?
Just be organised (especially in a pandemic) Excel sheets and lists are definitely essential to plan a wedding. We had about 3 guest lists on the go whilst we were waiting to hear government guidelines! We also made a wedding website to put all the information on for our guests.
The day is about you as a couple. Assess what you and your partner feel is important for your day and the things you would be willing to compromise on.
I know how disappointing it is to postpone, but your wedding day will come, and it really will be the best day of your lives!

Looking back, is there anything you would change?
We would have just loved to have everyone up dancing – that would have been the icing on the cake. I have my fingers crossed for future couples that this changes soon!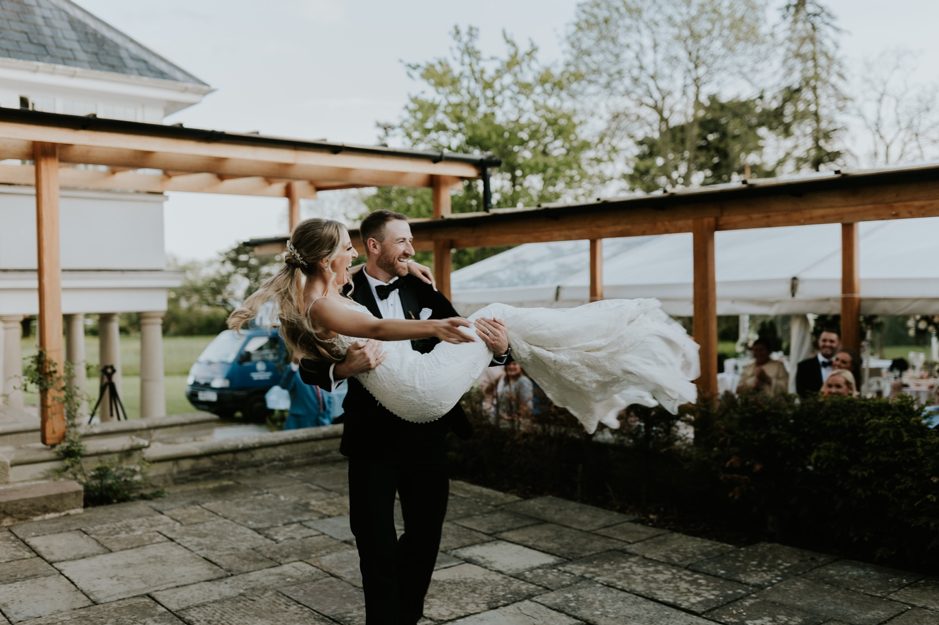 (Music HQ: A huge thank you to Sophie Collins Photography for the superb images)
Suppliers
Flowers – Catherine Gray Flowers
Videography – Aurora Wedding Films
Photography – Sophie Collins Photography
Cake – Honey B'z Cakes
Wedding Dress – Laura May Bridal
Make up – Kathryn Kift Make up
Hair – Love Hair By Emily Marchant
Decor – Lumi Event Design
Catering – Ffwrnes Pizza & That Fish Guy
Day Music – Taliesin String Quartet