Stunning sea views provided by St Donat's Castle, a rocking party provided by Indienational, and all the LOVE provided by Laura & Laura.
We got in touch with the happy couple who provided us with the most wonderful insight into their very special day.
What was your most favourite moment of the entire day?
For both of us it was when we walked down the aisle and saw each other in our dresses.  Up until that point neither of us knew what the other was wearing. It really added to the emotion of the ceremony.  The sun was shining, swifts were flying around the courtyard, the decorations were perfect, our guests were eagerly awaiting our arrival and the rainbow flag was flying high from the ramparts!

Why did you choose your venue?
Laura H actually found the venue online and then we made a road trip down to Wales from Buckinghamshire to look around the castle and meet with the wedding coordinator. On the drive back home we decided there and then that we wanted to have our wedding day at St. Donat's. It really is the venue that keeps on giving, we were able to put our own stamp on it in terms of decorations and colours and the staff were all so friendly and helpful, nothing was too much trouble. The grounds had so many beautiful areas for photographs. The caterers were great too, the food was amazing and aligned with several Welsh culinary delights.

Did you have a specific theme style for your big day?
Not really a specific theme but lots of touches were tied in with the venue and its stunning location for a rustic, beachy feel. For example we had ice creams as canapes, overlooking the sea, pebbles were the name places, and bottles that we had recycled were covered in twine, filled with delicate fresh flowers and used as table decorations. We had a summer wedding so chose a turquoise colour for our bridesmaids and fathers which looked really vibrant and fresh on the day.

How did you hear about Indienational?
Online, by searching Wedding Bands in South Wales, we listened to their videos and kept an eye on their reviews. They were by far the best sounding band we had come across.

What did they bring to your day?
Energy, energy, energy! They also really looked the part and they sounded amazing. They performed our first dance song beautifully. Later on, when they played "Castle The The Hill" by Ed Sheeran, Laura N was ecstatic because we were literally in a castle on a hill! They are a lovely group of guys and were so professional. Everyone at our wedding raved about them and still do! They embraced the LGBT element of our day too which we loved and meant a lot to us.

What did you think of the service provided by Music HQ?
Music HQ were very helpful and answered our many many questions! They were able to assist with advice and ideas together with playlists and first dance options. We would highly recommend them.

Best piece of advice for other couples planning their wedding?
Don't underestimate how early the best suppliers get booked up, so make sure you do the research well in advance. One thing we didn't want to cut back on was our photographer, so we spent time meeting several professionals to get a good feel for them and their work before we made a final decision on SouthWales Wedding Photographer Aga Tomaszek. Weddings can be so expensive, so don't be afraid to discuss your budget with your suppliers. Our florist worked with us to revise her costings and as we purchased both of our rings from the same jeweller, we were able to agree some money off.

Looking back is there anything you would change?
Only that we wish the celebrations could have started earlier, but obviously that's down to the individual venue and the registrar.  Everyone said that we had thought of everything and included lots of little personal touches. We really had the most amazing day celebrating in a wonderful venue with all of our friends and family beside us.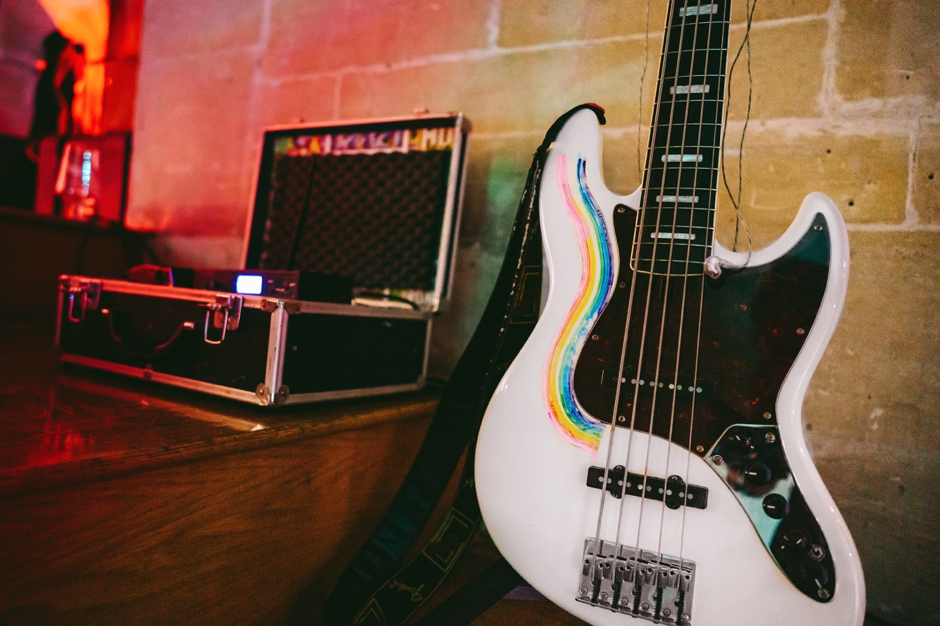 (Music HQ: A huge thank you to Aga Tomaszek for providing the superb images)
Suppliers
Venue – St Donat's Castle
Photographer – Aga Tomaszek Wedding Photography
Videographer – Dale at Dave Powell Videography
Wedding Dress – The Bridal House and Sapphire
Cake – Marks & Spencer
Flowers – Amanda French Flowers
Hair & Make Up – Charmaine Gorwill 
Wedding Entertainment – Music HQ / Indienational