Stephanie and Mark booked one of our amazing South Wales Weddings Bands Coverland to entertain their guests at their Beatles themed wedding in luxury venue Fairyhill.
We caught up with the lovely bride Stephanie to share her experience of the amazing day!
What was your most favourite moment of the entire day?
For both of us our most favourite moment was the ceremony. Mine walking down the aisle to see Mark and his to see me walking up the aisle in my dress. Especially as I was already 10 minutes late. It was made even more special with Dan playing the acoustic guitar with our most favourite Beatles song, Here There and Everywhere.

Why did you choose your venue?
We chose Fairyhill because we were truly blown away by the K Room. It is such a beautiful venue in its own right but as soon as I walked into the K Room my eyes filled up and I could truly imagine walking down the aisle to Mark. My parents attended with us to see the venue and even my Dad wanted to book it there and then.
Did you have a specific theme style for your big day?
Yes, Mark and I love music and have always used it to express how we feel for one another in both hard times and good. Our favourite band is The Beatles. We've both loved The Beatles from such a young age. Our favourite together is Here There and Everywhere; one of the first songs Mark every shared with me to express how he felt. We fed this theme through the day with little touches here, there and everywhere. (see what I did there?).
How did you hear about Coverland?
I searched the internet for bands in the area and listened to a lot of different ones. I kept coming back to the amazing wedding entertainment offered by Music HQ. I'm really fussy and couldn't find one I liked until I came across Coverland. Their sound, vibe and cost was just perfect. Once I booked them and mentioned their name to friends, I found out that they were very well known and everyone kept telling me good things about them.
What did they bring to your day?
It was amazing to have Coverland as part of our special day. They really tailored it to what we wanted. During the day Dan played acoustic guitar for the ceremony and drinks reception. He was absolutely amazing! He learnt to play our favourite Beatles songs too. Dan played for hours without stopping for a break; such a star.
In the evening, the band played amazingly and after their sets kept on going with their DJ Service. It was the most guests on the dance floor I've ever seen at a wedding, it was brilliant. The band really got the guests up and dancing; even my Dad. It was the first time in my life, I'm now 36, I've ever seen my Dad dancing; a real special moment.
What did you think of the service provided by Music HQ?
The service was 5-star, Martin was very personable and always returned messages, which eased my frantic state of wedding planning.  Nothing was ever too much for them. The little touches made all the difference; learning our favourite songs, wearing suits on the day and being flexible to feel the vibe and change it up if necessary. We would 100% recommend Music HQ and Coverland Band for any couple planning their special day.
Best piece of advice for other couples planning their wedding?
Some advice I would give is make sure you get a good night sleep the night before. Also, really take your time to enjoy every minute of the day.  I think it is important to get the essential parts booked early; venue, band, photographers, videographer, flowers, cake etc. Just keep on top of everything and know what you want, without being afraid to say it.
Looking back is there anything you would change?
Yes, getting more sleep the night before! Also, there were a few little annoyances with the decor we had to chase up and still weren't done on the day. On the whole, it was the best day of our lives. Some many friends said it was the best wedding they had ever been to, which meant the world to us.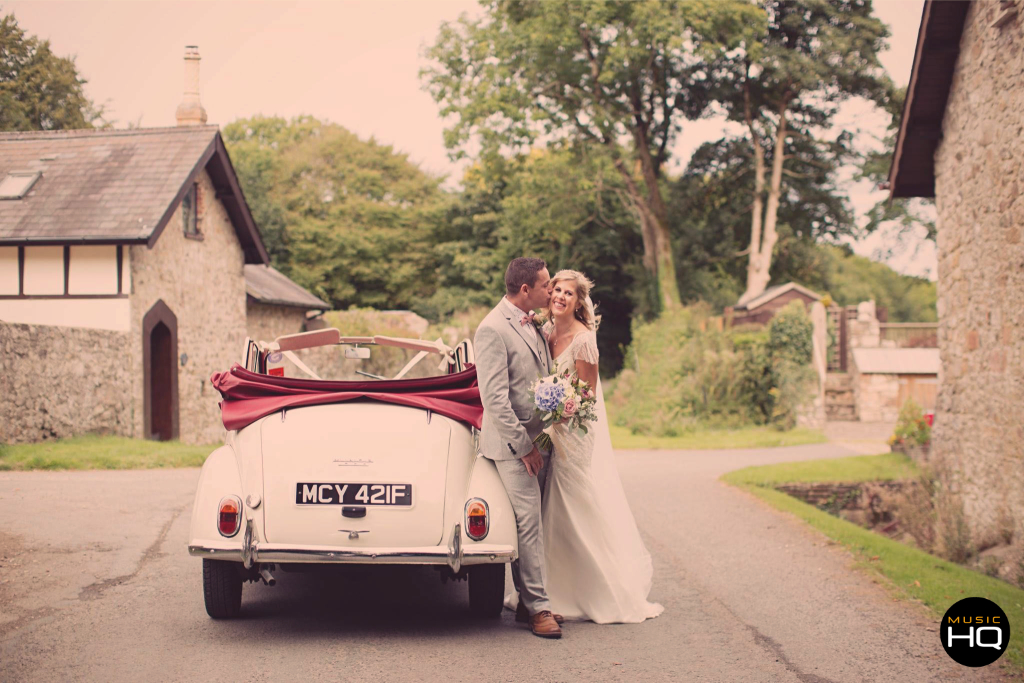 For more information on booking an amazing act like Coverland for your very special day, please get in touch with us here at Music HQ.
Suppliers
Venue – Fairyhill
Videography – Zoom Productions
Photography – Roz + Kirsty
Wedding Dress – Laura May Bridal
Daytime Entertainment – Coverland
Band – Coverland