Katie and Chris got married at the amazing Rosedew Farm, South Wales. They booked our amazing Trilogy to get the dancefloor pumping!
We spoke with Katie to give us a little more insight into the couples magical day!
What was your most favourite moment of the entire day?
This question gave me quite a lot to think about as the whole day was so much fun! If I had to pick one moment though it would be walking into our ceremony holding onto my dad's hand and seeing Chris there at the end of the aisle waiting for me. My favourite moment of any wedding, and the moment you can never re-create, is the groom's face when he sees his bride for the first time so for me to be in that moment myself was genuinely amazing.

Why did you choose your venue?
It is safe to say me and my family being from London, Chris' family and ourselves living in Bristol, and having family living all over England, that South Wales was not initially top of our list when searching for our wedding venue. However, the first time we visited Rosedew Farm we knew it was the only place we wanted to be married. Gaynor and her family welcomed us as if we'd known them for years and were so relaxed showing us around the barn, farm and accommodation – all of which were stunning! A priority for us was for guests to be able to make a weekend around our wedding so having the different accommodation options was perfect. Being able to spend time at the farm the day before our wedding made it the lovely relaxed weekend we hoped for and the 'DIY' decorating of the barn meant we could really personalise it. We are real good food lovers and Farmers Pantry, Rosedew's butchers and caterers, offered exactly what we wanted and following our tasting session we knew everything would be delicious!

Did you have a specific theme style for your big day?
We never really set 'a theme' for our wedding… We agreed our colour would be dark plum purple with a few silver touches but no specific theme. We do love farms and animals though so it fitted perfectly being at Rosedew having milk churn centrepieces and decorations as well as our favourite animals as our table names.

How did you hear about Trilogy?
Live music and going to gigs have always been something Chris and I have enjoyed before we were together as well as in our 10 years as a couple. After booking our venue and the registrar (the only two necessities of the day) we agreed a live band would be next on our list. We found Trilogy after searching for live wedding music in South Wales – they immediately stood out from all the other bands and singers available for us. In their promo video they sounded fantastic and their set list was as if they had copied it from our own music collection – there was no other choice for us on our big day.

What did they bring to your day?
Trilogy were absolutely fantastic!! When the guys arrived they introduced themselves to us and were just lovely. They played our first dance song for us and then went straight into their first set which kept all of our guests up and dancing. Every song choice was bang on and their energy was brilliant! In between their sets we had our own play list but we wish Trilogy could have played for us all night. I don't think my words can do Trilogy the justice they deserve – they were certainly one of the best wedding decisions we made and we are already looking for celebration excuses so we can hire them again!

What did you think of the service provided by Music HQ?
Everyone we spoke to through Music HQ was very friendly and helpful. Any questions we had were answered quickly and clearly and the booking process was very easy.

Best piece of advice for other couples planning their wedding?
Our advice for other couples planning their weddings is just to make it what you will enjoy the most as a couple – this is the one day that is totally about you as two people. There is a lot of pressure out there around planning 'the perfect wedding' and actually if we had followed some of the advice given to us we would not have had nearly such a perfect day for us – not to mention we would have been way more out of pocket! People kept asking us if we were feeling stressed planning our wedding which was ironically the only thing that caused either of us any stress. This was because we knew we were planning the day we, and therefore our family and friends, would enjoy and remember the most.

Looking back is there anything you would change?
Looking back to our day just makes us really happy, although slightly sad it all flew by so quickly! A couple of small details we had planned were missed on the day but actually this didn't matter at all and nobody even realised.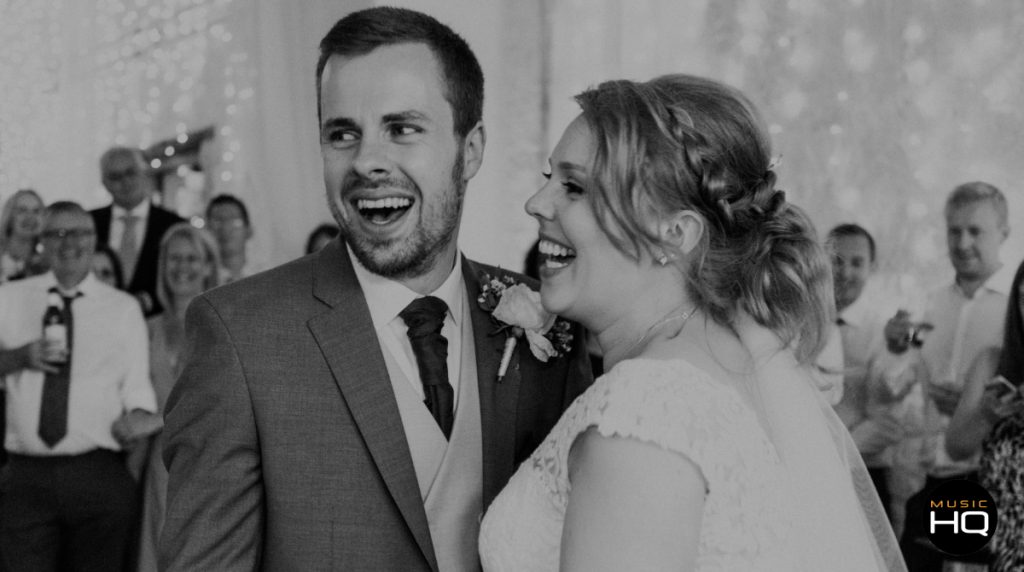 (Music HQ: A huge thank you to Hannah Barnes for providing us with these superb images)
Suppliers
Venue – Rosedew Farm
Photographer – Hannah Barnes Photography
Videography – Orchid Films
Wedding Dress – Wed2B
Cake – Hayley Parker (Bride Sister)
Flowers – Best Buds by Samara
Hair & Make Up – Natalie at Beau Bridal Hair & Make-Up Specialist
Caterers – Holden's Catering
Wedding Entertainment – Music HQ / Trilogy