May 2019: Brohemian
We caught up with multi-instrumentalist extrordinaire Richard from Brohemain to answer our Band of the Month questions…
What is your favourite venue to play and why?
Our favourite venue by far is Maunsel House in Somerset. It's a 15th Century mansion owned by an eccentric gentleman who hangs out in one of the lounges regaling wedding guests with crazy stories. He appeared on a TV show in 2012 about owners of country houses. The house itself is full to the rafters with old memorabilia; paintings on every wall and a massive collection of old firearms which you can pick up and try on for size (!?). The staff are lovely and relaxed and the live music room is perfect for our rootsy Brohemian vibes!

What has been your favourite First Dance to perform live?
We were asked to learn 500 Miles by The Proclaimers for a lovely couple (It's become a popular part of our set since) and the couple enjoyed it so much that the bride asked us to record our version as a birthday gift for her husband. Just one of the (many) little things that make make this job so satisfying.  Check out the version here:
Brohemian – 500 Miles
Which song in your set never fails to take the roof off the dancefloor?
Ironically, one of the 'less-dancey' songs, Ho Hey by The Lumineers, is one of our biggest crowd pleasers. There's something about the quality of the song and the sentiment that just seems to connect with people – the minute the chords start, people start putting there arms round each other and singing along!
What do you love most about performing with the band?
We get along really well on a personal level and only choose songs that we love, so you don't get too much fake-posturing, just good songs and good times – I think the people that choose us for their special day can sense that and the vibe rubs off on the crowd.

What's been your most memorable performance to date?
It's hard to separate the gigs because we've been lucky to play in so many stunning venues to so many lovely people. One of our favourites was an early evening gig in the sunshine, outdoors, slap-bang in the middle of Stratford Upon Avon Racecourse. It was a birthday party in the style of a festival, complete with wristbands, food stalls, festival attire etc. Everyone was relaxed and in the mood to party!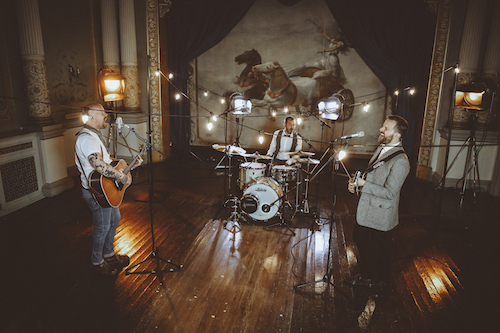 Get in touch with Music HQ today for more information on booking the amazing Brohemian for your Wedding Entertainment or Corporate Entertainment.